ESAT News (June 14, 2017)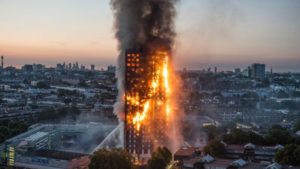 At least 12 people have been killed in the west London's Grenfell Tower as fire turned the 24-storey apartment building into an inferno in the early hours of Wednesday morning.
Information gathered by ESAT'S London Bureau shows at least 40 Ethiopians and Eritreans live in the tower and some are feared to be among the missing .
The Evening Standard newspaper carried two photos of Ethiopian women who are among the missing, according to Wondimagegn Gashu of ESAT's London Bureau.
The Evening Standard quoted a fire and explosion expert as saying that a "chimney effect" could be the reason the deadly Grenfell Tower blaze spread so quickly.
The blaze is thought to have started on the third or fourth floor of the block soon after midnight with hundreds of people inside. It spread to every storey of the building with firefighters unable to reach beyond the 19th and 20th floors, the Standard reported.
About 600 people live in the tower and authorities in London say the death toll could be higher.