ESAT News (August 10, 2017)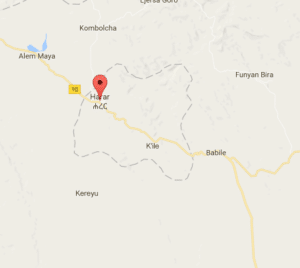 There has been reports of fighting in the area between the cities of Harar and Babile on the way to the country's eastern commercial town of Jijiga. The highway connecting the capital Addis Ababa to Jijiga has been blocked, according a security alert by the U.S. Embassy in Addis Ababa.
Bloggers close officials in Addis Ababa said the fighting took place on the border between the Oromo and Somali regions, hinting that the fighting could be a continuation of conflict between the two ethnic groups. There has been no official statement from the government or the state run media in Addis Ababa.
The alert from the U.S. Embassy said regime's army have already arrived in the area.
Clashes between the two ethnic groups early this year had turned deadly with the Oromos accusing that raids by the Somlais were backed by the regional special forces and have resulted in the death of several people, raiding of cattle and abduction of women and children.