by Engidu Woldie
ESAT News (June 16, 2017)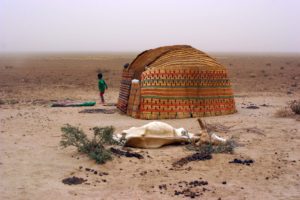 The Ethiopian regime is using famine to punish the people in the Somali region of Ethiopia whom it sees as its opponents, an activist said on Friday.
Jamal Kalif, chair of the Ethiopian Somali Activists Network and a former member of the Ethiopian Parliament told ESAT that the regime is making statements that it is self sufficient to feed the hungry in the Somali region, but the reality is on the contrary.
Kalif accused that the regime is punishing the people of the Somali region who have been protesting its handling of human rights in the region.
Ethiopia's disaster preparedness commissioner, Mitiku Kassa on Wednesday told local media that the World Food Program informed his government that it would end its food aid at the end of June. The WFP, according to Kassa, wants to redirect its resources to South Sudan, Nigeria and Yemen where it says the situation is more grave. Kassa said his government had enough food reserve to feed the people in the Somali region.
Activist Kalif, however, does not agree with Kassa's assertions. He said the WFP turned its attention to other countries because the Ethiopian regime does not show willingness to receive aid from donors. "The regime is worried about its image than the millions of people that need food assistance," Kalif told ESAT.
Some 7.8 million people in Ethiopia need immediate food assistance. Aid agencies warn that food is running out at the end of June and immediate action is needed from the donor community.