ESAT News (April 14, 2017)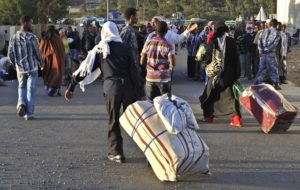 Thousands of Ethiopians are returning home from Saudi Arabia after the gulf country ordered undocumented immigrants to leave the Kingdom in 90 days.
Hundreds of thousands of Ethiopians live in Saudi Arabia as domestic workers due to lack of job opportunities at home. Some have become undocumented as they run away abuses by their employers.
Over 100,000 Ethiopians returned home in 2013 as the Kingdom crackdown against undocumented immigrants.
The Ethiopians have taken travel documents in their thousands to return home after the new decree was issued at the end of last month.
There have been reports of abuses of domestic workers in Saudi Arabia, leading some to commit suicides, drawing condemnation of the Kingdom by rights groups in its handling of immigrant workers.