ESAT News (April 20, 2017)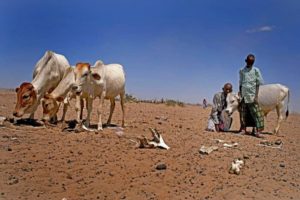 Only a fraction of the money needed to help Ethiopia's 5.6 million people affected by drought has been obtained so far, a report disclosed on Thursday.
Only 23.7 million dollars of the 948 million needed to feed the 5.6 people is available so far, according to the emergency news network IRIN.
"This year, the appeal is for $948 million to help 5.6 million drought-affected people, mainly in the southern and eastern parts of the country. So far, only $23.7 million has been received," IRIN said in the report.
The report said the government's safety net program doesn't pick up those affected by sudden shocks like the current drought. They fall under a new and separate programme, which is struggling to register all those in need.
Meanwhile the International Organization for Migration said it has identified 400,000 displaced people in the Somali region of Ethiopia, a region severely affected by the current drought.
"There are 58 settlements for the internally displaced in the Somali region currently receiving government aid. But that's only a fraction of the 222 sites containing nearly 400,000 displaced people identified in a survey," the report said.
Forty-four percent of these camps reported no access to food, and only 31 percent had a water source within a 20-minute walk.
"People were surviving from what they could forage to eat or sell but now there is nothing left," said one senior aid worker who visited a settlement 70 kilometres east of the southern town of Dolo Ado, where 650 displaced pastoralist families weren't receiving any aid at all.