ESAT News (April 17, 2017)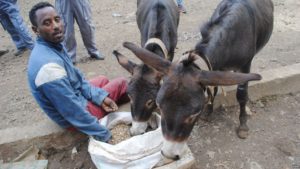 Authorities were forced to shut down a plant that processes donkey meat for export after it faced protests by the public for religious reasons.
The Chinese abattoir was the cause of indignation by Ethiopians, Christians and Muslims alike, whose religion prohibit the slaughtering and eating of donkey meat, pork and the likes.
The abattoir in Debre Zeit, a.k.a Bishoftu, outside the capital Addis Ababa has been the topic of heated discussion among the public and on social media.
A letter by the administration of Bishoftu town to the plant states that a decision has been made to close the abattoir citing religious reasons.
It is not clear if a similar donkey meat abattoir in Asela, in central Ethiopia would face a similar fate.
Donkey meat is a delicacy in some Asian countries. The Chinese use donkey hides in traditional medicine driving the price of donkeys to skyrocket.
People in rural areas in poor countries rely on donkeys for transporting goods.
With Eleven million donkeys, China has the highest population of the "beast of burden" followed by Ethiopia which boasts five million.