ESAT News (April 19, 2017)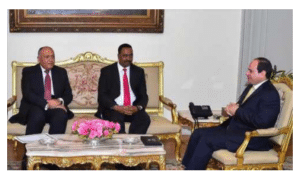 Ethiopia's Foreign Minister is in Cairo following news that arch foe Eritrea has given the nod to Egypt to establish a military base.
Details of the talks are scanty but Workeneh Gebeyehu has met his Egyptian counterpart and also president Abdel Fettah Al Sisi in Cairo.
A high level Egyptian delegation was in Asmara, Eritrea last week amid unconfirmed reports that the east African nation, which is under a UN sanction, has granted Egypt to establish a military base.
Egypt will be the third Arab country in the region to have a military base in Eritrea. Saudi Arabia and the United Arab Emirates have already leased the port city of Assab for military base, according to the U.N.
News of the new developments has led Ethiopian officials to scramble for diplomatic solutions, as any cooperation between Egypt and Eritrea is seen as a threat by the Ethiopian side.
Ethiopian officials say the move by Egypt would undermine and sabotage the construction of the mega hydro electric dam along the Nile, which Egypt says would affect its share of the water, according to reports.
Ethiopia has been accusing Eritrea and Egypt of harboring "anti Ethiopian forces," which the two countries categorically deny.