ESAT News (March 17, 2017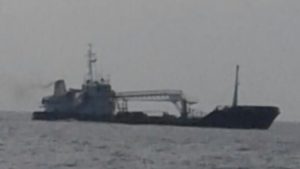 Somali pirates who hijacked an oil tanker have released it without condition, the BBC reported quoting officials.
The announcement came hours after the pirates and naval forces exchanged gunfire over a boat believed to be carrying supplies to the hijackers, according to the report.
The tanker, which was en route from Djibouti to the Somali capital, Mogadishu, was seized on Monday with eight Sri Lankan crew members on board.
It is the first hijack off Somalia's coast since 2012.
"There has been discussion going on after the gunfight this afternoon… We took our forces back and thus the pirates went away," the BBC quoted Abdirahman Mohamud Hassan, the director general of the Puntland maritime police force, as saying.
A pirate confirmed the release was made without a ransom payment, according to Reuters.
However, John Steed, a former British army officer who has spent years negotiating the release of piracy hostages in Somalia, told the AFP news agency they had been made an offer they could not refuse.