ESAT News (January 11, 2017)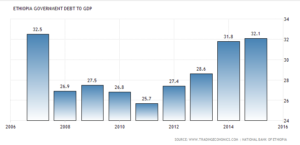 The Ethiopian regime has put a 1.3 billion dollar bond for sale to mitigate its financial crises.
The government last year raised 1 billion dollars in the sale of sovereign bonds at higher interest rates.
The newly proposed sale of  bonds is also expected to have higher interests with 5 year grace period and will be paid off  in 10 years.
Hailemariam Desalegn on Monday admits the country has faced foreign currency crunch for the past three years.
According to critiques, bad economic policies and corruption at a higher level have contributed to the financial crisis.
Ethiopia's debt reached 36 billion dollars at the end of 2015.